A MESSAGE FROM OUR FOUNDER
Your faith in Debate Mate has been invaluable during this pandemic. Thanks to the wonderful Debate Mate team, we rose to more than conquer every challenge thrown our way. We pivoted online as soon as we locked down, providing free resources to all schools and crucial training to vulnerable children. We have also developed at least seven extra online programmes and expanded our reach via technology across the globe.
I can't thank you enough for the many ways that you support us, enabling us to change the life chances of the many thousands of young people on our programmes. You deserve the biggest, albeit socially distanced, hug and congratulations. To change one life is phenomenal but to change hundreds of thousands is beyond any of our ambitions or expectations. We are happy and proud to share our plans to develop an online platform, so we can reach millions of young people across the world. We look forward to updating you throughout 2021. May you have peace, joy and health for the year ahead!
Stay Safe,
Margaret McCabe
CORE PROGRAMME
Our programme kicked off in November with a virtual launch event, attended by nearly 3000 students from across the country, and a panel of experienced speakers, including some Debate
Mate champions who inspired our massive audience to take part in Debate Mate clubs!
We are currently working with 120 schools on our Core, Debate Mate Plus and Accelerate programmes with over 1500 students each week, running both in-person and online sessions delivered by nearly 300 aspirational university student mentors. The first round of our Urban Debate League will take place online in January and February 2021, with students joining from school or from home. This is the first time we've ever hosted such a large competition virtually, and we are really excited to deliver it in this format…(Read more)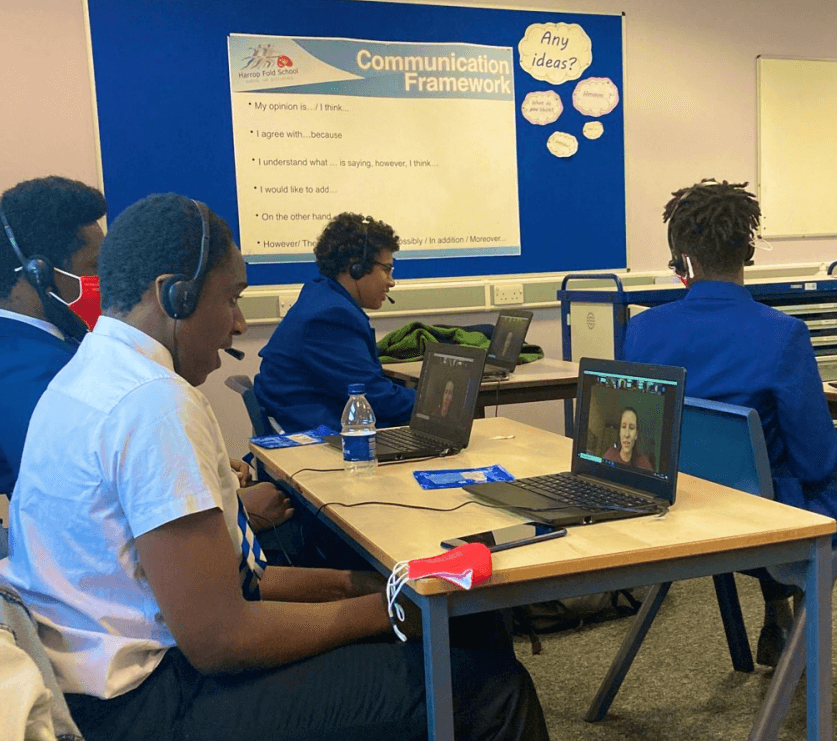 GRADUATE SCHOOL PROGRAMME
While social distancing restrictions have prompted the Graduate School to shift to an entirely virtual delivery model for the 2020-21 programme, we have taken this opportunity to expand enrolment on the programme to all regions for the first time. So far, the Graduate School has been attended by 55 unique students coming from every one of Debate Mate's regions, with more set to join for the catch-up week in January. Our virtual delivery model has also allowed us to increase…(Read more)
DEBATE MATE PLUS PROGRAMME
Despite COVID-19, the Debate Mate Plus programme has been able to deliver sessions to 11 London-based sixth forms, culminating in an exciting competition before the break for the Winter holidays. Students began the programme with an exciting virtual Launch event in collaboration with the Bank of America. Students were able to watch a world-class show debate and interview the Bank of America representatives about their careers! A few weeks later, the schools were joined (online) by student ambassadors from Christ Church College, Oxford University…(Read more)
EDUCATION UK
In addition to the 17-week Core Programme we deliver in eligible schools across the country, Debate Mate's Education UK arm works with schools, universities, charities and youth groups to deliver bespoke, debate-led training programmes for students of all ages. From one-off pitching masterclasses to inter-school debating tournaments, these programmes use the Debate Mate methodology to develop core confidence and key 21st century skills in young people of all debating backgrounds and abilities.
Committed to the accessibility and sustainability of debate-led teaching, Debate Mate's Education UK arm also delivers a range of CPD programmes for teachers and school leaders. These programmes empower participants to transform teaching and learning across all Key Stages and subject areas and to develop a whole-school culture of debate.
Highlights of this year's programmes include…(Read more)
DEBATE MATE LIMITED
2020 has been a remarkable year for everyone, Debate Mate Limited included. It has presented a unique mix of challenge and opportunity and has seen a period of rapid transformation for the company. As many of you know, Debate Mate prides itself on being high-energy, high-interactivity and high impact. We built our relationships and reputation not only by being 'in the room' but by bringing the room to life! So when lockdown struck, there was a chance that we would very quickly lose what made us special. But, being Debate Mate, this was never going to happen! Since March 2020, we have delivered over 1,000 hours of training workshops, 200 hours of executive coaching and 30 Showcase Debates to partners from Hong Kong to Hawaii, Kampala to Kuala Lumpur. Some of our highlights include…(Read more)
VIRTUAL DEBATES
Since April 2020, we have been hosting our signature live Show Debates online. Streaming from Zoom webinar and YouTube has enabled us to reach thousands of people, covering topics from Leadership to Education, Football to Harry Potter and many more. The unique format allows us to have expert VIP guests speak alongside our fantastic Debate Mate students. We have been joined by guests including the BBC's Nick Robinson, Professor Rose Luckin, Brett Witzdorf, founder of Teach First, Andrew Adonis, former Education Minister, broadcaster Jacqui Oatley MBE, Helena Kennedy QC and Bloomberg's Naomi Kerbel. We have had our students from Year 5 – Year 12 join our debate panels this year, representing the Debate Mate ecosystem from the Classroom to the Boardroom.
Here are some of the debates that we have run this year:…(Read more)
DEBATE MATE ONLINE
When the UK went into the first lockdown, Debate Mate Online trialled its first Virtual Debate Club with parents signing their children up to a 5-week course, as ever, led by our amazing mentors. With demand increasing, we spent the summer planning our 12-week programme, which launched in September and we're proud to say now has over 30 clubs running every week! True to our core mission and values, we are giving substantial discounts to parents whose children are in receipt of Free School Meals…(Read more)
DEBATE MATE COMMUNITY
Like with so many other parts of Debate Mate building our mentor community has had a virtual transformation this year. In place of drinks after judging training, we decided to run a social session with the obligatory Zoom quiz but also a 'speed dating' type format giving mentors the chance to chat and meet with each other no matter where they were in the world…(Read more)
FUNDERS THANK YOU
We would like to take this opportunity to thank our funders for their support of the 2020-2021 programme year. Without these vital grants and individual donations from the members of our Platinum 100 Club, we would not be able to continue the valuable work we do in schools across the UK. With thanks to: