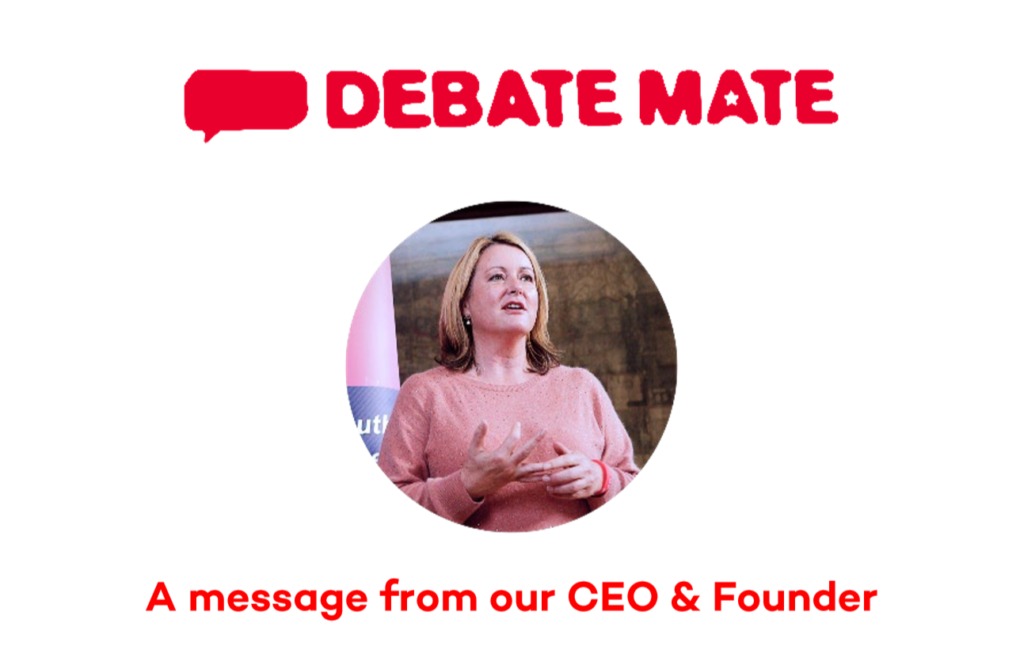 Hello, I am speaking to you as the Founder and CEO of Debate Mate and as a senior barrister, experienced in Racism, Human Rights and Commercial Law. Many of you have been asking me what I have been thinking about since the appalling killing of George Floyd on the 25th May 2020.
I am thinking about George Floyd, his family and his community. I am also thinking about the wider Black community and I'm also thinking about my own family, who are Black, both here and in Jamaica, and in particular my grandchildren and the future ahead of them. I am overwhelmed by the emotion that has enveloped the world since the killing of George Floyd.
I'm thinking about the fact that we all live in a parallel universe of two worlds, as racism dictates everyday life here in the UK and in the US. White still dominates over Black.
I'm thinking about how our world is built on racism. Racism and slavery are inextricably linked, as Black slaves were the property of their owners and were central to the growth of the British Empire and capitalism. Racism has become the knee on the neck that keeps black people in poverty. It's not Black vs white, it's everybody against racism.
I'm thinking about the fact that we have 4 million children in the UK who are stuck living in poverty with educational disadvantage and no social mobility – there is an educational apartheid operating here and that means that those that are born poor, die poor.
I'm thinking about how the majority of our students on the Debate Mate programme are Black.
I'm thinking about the fact that Debate Mate now is working successfully to dismantle racism. Dismantling racism is the foundation for the new normal and the reason Debate Mate exists. The Debate Mate Programme works well and we have exceptional results, not only in the UK but also in the USA and across the globe. To extend our reach, we are partnering and developing with technology to achieve this.
I'm thinking about how the time is right to put the Debate Mate Programme at the centre of all modern education, as it skills up generations of Black leaders in order to transform society.
I'm thinking about how dismantling racism is a marathon and not a sprint. Based on my considerable legal experience and skills, there are 3 things that we need to do:
The first is that good quality education, the Debate Mate programme needs to be accessible to everyone. The second thing that we need other than education is affirmative action, so that Black people are able to have careers and fair pay for the work they do. And the third thing that we need to do, which is the most important, is make the structural changes across society, so that we can turn the political gains from the Black Lives Matter movement into economic and structural change.
This is an exciting challenge that lays before us, and it is achievable. Black lives do matter and this action needs to be immediate, as we should not have to wait any longer following decades of degradation.
I'm thinking about a People's Commission, separate from the government, as governments can't be relied upon to bring about the changes needed to dismantle racism. This People's Commission is inspired by the Truth and Reconciliation Commission, set up in South Africa after Apartheid. It needs to be headed by our very best leaders in society. They need to be powerful and persuasive because they need to be able to identify the infrastructure and organisation for change that's necessary now in 2020 going forward.
It firstly needs to draw up a list of facts of what is happening and what racism is today in 2020 across the UK, across the US and globally. Its members need to listen to the communities most affected, and learn from the people most impacted by racism. It needs to use this knowledge, understanding and experience to be able to make demands, articulated in a simple and comprehensible way to dismantle racism and draw up a road-map to achieve this.
I'm thinking about all of you who have supported Debate Mate since the beginning, I want to thank you for this support because what that means in these very difficult times, is that you acknowledge that racism exists and that we need to do something about it. It shows me that you are fair minded, decent compassionate people in our society who cannot tolerate racism any longer.
On behalf of all the supporters who acknowledge that action is needed, I apologise to all the Black and Minority Ethnic students, both in our programme and beyond, for the fact that racism has not been dismantled before now. I pledge to do all I can personally, professionally and organisationally to achieve this.
I'm thinking about the fact that we are in the year 2020 and that this is the year we have been waiting for, as 2020 is known as perfect vision, perfect sight. We can see clearly now what needs to be done to stop the hate. Nelson Mandela said that people aren't born hating, hate is learnt and if we can learn to hate, we can learn to love.
I'm thinking about Bob Marley's One Love and how Martin Luther King's dream for there to be one universe is achievable. I'd like to see the end of the parallel universe of two worlds of white domination and I'd like to reinstate through my actions that Black lives do matter. Together, we can educate children out of poverty. If we can educate children out of poverty everywhere, we can alleviate modern slavery, which is still a huge problem.
I ask you now to support all Black businesses and Black business owners. At Debate Mate, we will be running Black leadership and financial training programmes and building investment to expand this further.
I'm thinking about the fact that if you can do anything to help circulate this message, and to ask people to let me know what they are thinking about, then together we can achieve an investment and social strategy to set things on the right path. We know how to do it and we need the People Power behind us, for united we stand.
Yours sincerely,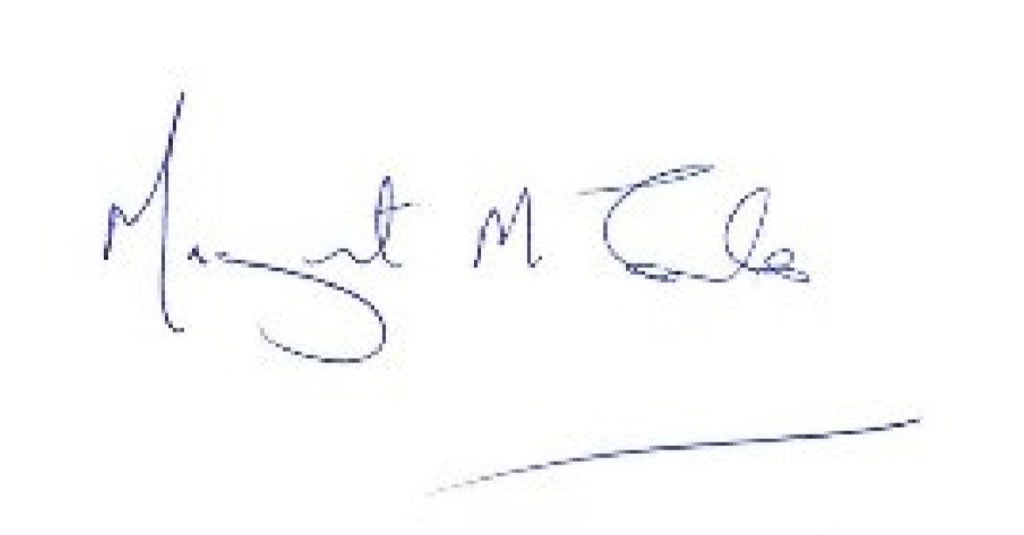 Margaret McCabe, CEO and Founder of Debate Mate