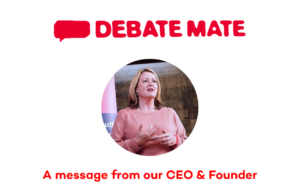 In response to the outbreak of Coronavirus (COVID-19), Debate Mate has made the decision to suspend the delivery of our Core Programme in schools across the country. In these unprecedented and challenging times, it is uniquely important that we work together to provide young people with opportunities to continue to learn, and continue to thrive.
At Debate Mate, we have always believed kindness to be one of humanity's greatest powers. It is both the small, and the big acts of daily kindness that are especially important in this difficult period. As an organisation, we hope to show kindness every day, and will continue to support people in any way we can.
We are committed to enabling young people globally to develop the key 21st Century skills that the Debate Mate programme teaches. For this reason, we have decided to make the Debate Chamber on our online platform freely available to any teacher that would like to use it.
The Debate Chamber includes a database of debate topics, with resources, articles, and informative videos. It is a fantastic, engaging tool to use in the classroom to spark discussions on issues from a range of curriculum subjects, and current affairs. Our students love learning the Debate Mate way, and by making this resource freely available to teachers, we can allow them to still experience the Debate Mate magic – even if we are not meeting face-to-face.
We know that many schools are staying open with stripped-back staff to continue teaching the children of key workers, and those most in need. We hope that the platform will provide some useful resources to support teachers in providing engaging sessions for their students.
If you are interested in accessing this resource, please fill in the short form linked above, and tell us a little bit about you and your school. We are exploring how we can support our mentors to run virtual 1-hour debate sessions, which will be screened via a video conferencing platform to your classroom. You will be able to indicate if this is something you are interested in on the form linked here.
We are also looking into how we can provide support for parents/carers, and students who are at home, with resources and 1-1 debate mentoring. Please pass this letter on to any parent or carer who would like to find out more – they can drop us a message and the Debate Mate team will be in touch!
For many of us, this is a truly difficult time – but if everyone does their utmost to support each other, and remembers to be kind, we can get through it together. We look forward to connecting teachers and students across the world with our online resources, and continuing to help in any way that we can.
With warmest regards,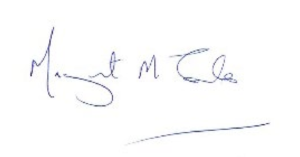 Margaret McCabe CEO & Founder Debate Mate